We promote and support public health, development, and cultural exchanges within the framework of human rights.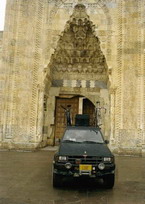 Part of our uniqueness is that we travel overland to gain real exposure to people's lives. Overland travel is a reality-check for anyone aspiring to do development work. It's the only way to get a clear understanding of people's conditions, needs, and aspirations, literally on-the-ground.
At the Foundation, we've always tried to be involved and committed global citizens. We feel we do real development work, on the ground and direct. Reaching people individually and directly. The Nobel winner, V.S. Naipaul, often writes about "restorating a sense of human possibilities." It may be too ambitious a goal, but we can aim for nothing less.
We are building a network of partner organizations that we visited during our travels. These partnerships are founded on trust and the confidence that long-term solutions can be reached. The Foundation does not seek to impose projects on the partner organizations, but on the contrary, to learn from them. We provide technical assistance and resources for these organizations to strengthen their capabilities and aim for an evolution from a local model to policy development.