The inaugural annual (Not So) White House Cluster Bomb Hunt will be held on Monday, April 9 from 8 a.m. to 2 p.m. on the North Lawn of the White House AKA Lafayette Square
This year, thousands of outstanding youth won't be able to join President Bush as special guests at the White House Easter Egg Hunt on the South Lawn because these children had their lives blown apart by insidious unexploded American-made ordnance, in places like Cambodia, Vietnam, Laos, Afghanistan, Iraq and Lebanon.
Please click here to see who's coming (and who's not) to the White House Easter Egg Hunt.
For those who can't come, we're going to have a Cluster Bomb Hunt directly north of the festivities. Bring the kids! (After, we'll have a WMD hunt and bin Laden hunt for the adults.)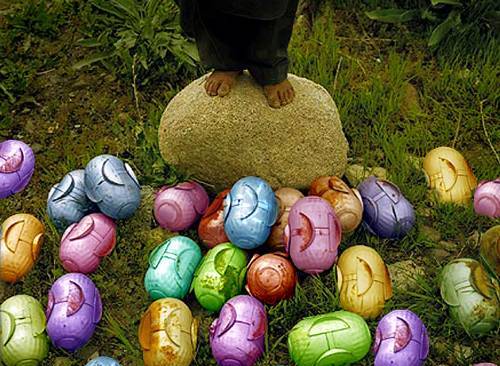 Protesters' Easter Message
We the peaceseekers send greetings to those observing the joyous holiday of Easter. On Easter, Christians around the world remember the fundamental message of their religion (and all religions) - Peace - and that you reap what you sow (but sometimes innocent children reap what you've sown). So, we proclaim to stop paying for, making, selling and even donating (!) weapons that are designed to kill civilians and that lay in wait for a child's curiosity to rip apart their lives.
For Christians, this is the true message of Jesus Christ's triumph of love over death.

2007 State Cluster Bombs
Local activists have created the decorated Cluster Bombs, which represent each state (that pays for these child-cripplers), some will resemble relief food packets as our military chooses to do.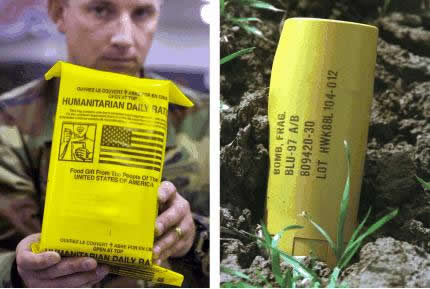 The 2007 Cluster Bomb Collection continues the tradition that began in 1940 with the first cluster bomb, lovingly called the "Butterfly Bomb" (Sprengbombe Dickwandig or Splitterbombe) by its Nazi inventers. The 2 kg anti-personnel (another word for people) bomb was dropped by the German Luftwaffe during the Second World War on population centers. Its beautiful name comes from the fact that the thin cylindrical metal outer shell hinged open when it was dropped and gave a superficial appearance of a large butterfly. The cute names continue in English as their nicknames are now 'bomblets' or 'baby bombs' (which has an unfortunate double entendre).

Sponsored by the Vineeta Foundation, Code Pink, DAWN, Voters for Peace, Fellowship of Reconciliation, Coalition for Justice and Accountability, Democracy Rising, US Campaign to End the Occupation, Backbone Campaign, After Downing St, Iran Coalition and Jewish Voices For Peace